Posted on May 17 2023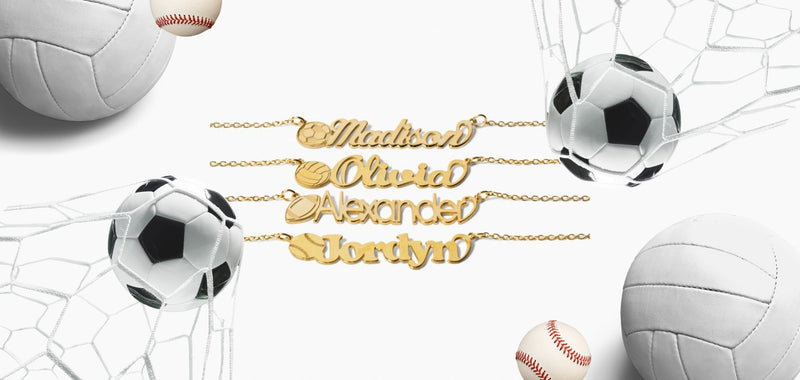 If you're in-tune with the latest fashion trends, you might've noticed that sports necklaces have become increasingly popular in recent years. After all, not only do they provide a stylish way to show off your favorite sport, but they also make the perfect gift for any athletics enthusiast. Today, the team at Brilliant Bijou is sharing four reasons why our MVP Sports Necklaces are such a hot item. Read on to learn more and start shopping today!
Fully Customizable
With how customizable sports necklaces are, it's no wonder why they're so popular. When you create your custom sports necklace with Brilliant Bijou, you can choose the chain length, sport, theme, and metal type all on your own. Plus, you can add your name to the design for a bespoke piece of jewelry that's truly one-of-a-kind.
High-Quality & Long-Lasting
Brilliant Bijou's sports necklaces are designed to last a lifetime, which makes them a highly sought-after item for anyone who appreciates resilient and durable jewelry. Whether you opt for gold-plated sterling silver or even 14k rose gold, you can feel confident that your necklace will ace the test of time.
Timeless Design
Looking for a piece of jewelry that will never go out of style? Rest assured, as long as sports remain America's number-one pastime, sports necklaces will continue to be in fashion. From classic and subtle looks to modern and bold designs, our selection of sports necklaces promises to complement any style for years to come.
The Perfect Gift
Of course, it would be rude to keep all the fun to yourself. Our custom sports necklaces are the ideal gift for sports fans, athletes, and coaches of any age. Whether it's a birthday, graduation, or just because, you can give them a personalized gift they'll never forget. Just wait until they realize that their name and jersey number are immortalized in the design!
Rather than asking yourself why sports necklaces are so popular, perhaps you should be asking yourself why you don't have one yet! Whether you plan on adding it to your collection or giving it as a gift, Brilliant Bijou makes it easy to create the perfect customized sports jewelry for any occasion. Shop our store today!